How We Pamper You
Our Salon Services
Adam & Eve Styling Salon & Wig Center in Aberdeen, SD does haircutting and styling for women, men, children and teens plus many additional
salon services.

Salon Services Include:
Body Waxing
Wig/Wig Fitting
Hair Replacement/Toupee

Color

Haircutting and Styling
Hot Stone Massage
Lox Extensions
Manicures
Massage Therapy




OPI Gel Shellac for Pedicure
and Manicure
Pedicures
Perm
Prenatal Massage
Special Occasion Updos
Therapeutic Facials
Sugar Cane Peel



Brand Name Hair Products We Offer Include:
Matrix

OPI Polish

Redken

Hempz




Scruples

Surface

It's a Ten




TheBalm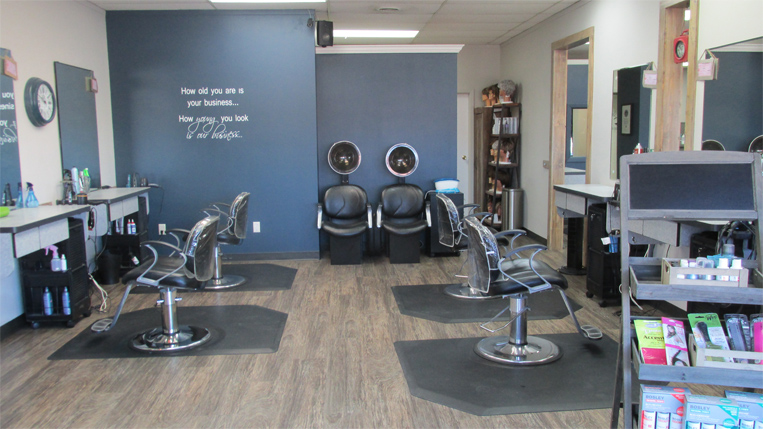 Salon Services
*All prices are base prices and may vary based on technician. Tax not included.
Haircuts
Men & Women - $16
H/C with Shampoo - $17
Bang Trim - $4
Nape Trim - $4
Beard Trim - $4
Buzz Cut - $12
Youth Cut - $13
Styling
Shampoo & Style - $16
Shampoo Set - $16
Flat Iron - $20
Special Occasion/Updo - starts at $40
Children's Updo- starts at $25
Coloring (base prices)

Short - $45
Shoulder - $55
Upper back - $60

Middle of Back - $65
Long - $70

Extra Long - $70

Frost - $35
Men's Frost - $20
Men's Color - $12
Highlights (base prices)

Short - $50
Shoulder - $60

Upper Back - $70

Middle of Back - $80
Long - $90
Extra Long - $100
Add another color for an additional $5
Perms
Basic (Includes Haircut) - $60
Specialty (Includes Haircut) - $75-$95
Smoothing Systems
This is a non-chemical protein smoothing system for all types of hair. It is also a specially formulated revitalizing and rejuvenating treatment for the hair that reduces frizz and curl. You'll have no more bad hair days with this system as it restores and creates shine for your hair.
Price to be determined during consultation.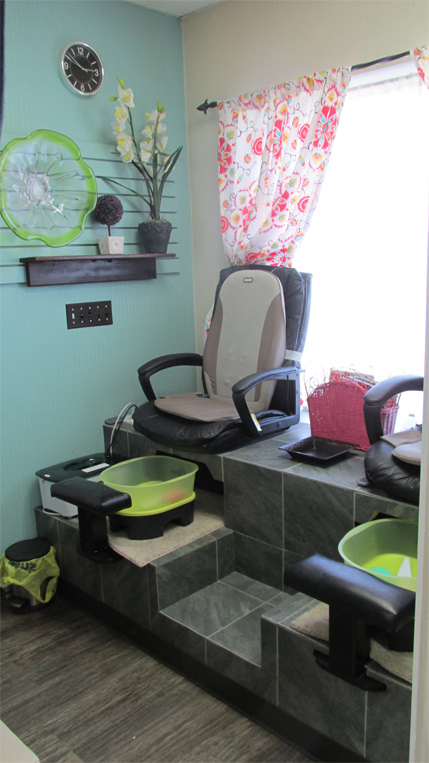 Facial Waxing
Lip/Eyebrow/Chin - $10
Each Added Extra Area - $2
Body Waxing
Leg (knee to ankle) - $30
Full Leg - $55
Full Leg & Bikini - $65
Arms - $25
Under Arm -$20
Back - $40
Chest - $30
Bikini - $30
Brazilian - $50
Manzilian- $65
Lox Extensions
Lox are made from 100% human hair that delivers the finest quality in extensions worldwide. Lox are seamless, weightless, and traceless. We offer three different applications: Lox for Length, Lox for Lots and Lox for Lights.
Lox are clean, fast, easy and affordable
Lox are applied without wax, heat, glue or tape
Lox are available in 2 types, 2 lengths, 2 textures, and 39 colors
Lox are perfect for anyone and look great on anyone

Price - $100 per hour application charge, plus cost of Lox extensions

Hair Loss Options
Priding ourselves in over 40 years of experience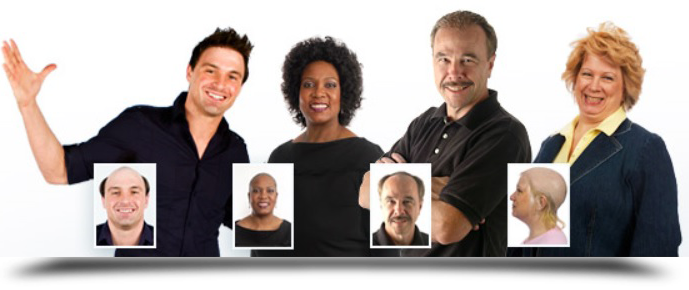 We also offer hair systems, wigs, and hair pieces for men and women. The men's systems include Concise and New Man. We provide private wig and hair system fittings. We carry the most famous and trusted brands including Raquel Welch, Eva Gabor, Wig Pro, Revlon, and Tony of Beverly, among many more.
Nail Care Services
Man's Manicure - $20
Relax and enjoy a hand and lower arm massage while we groom your nails and cuticles. Finish with a moisturizing Aroma paraffin treatment.

Mini Manicure - $20
Relax while we remove your polish, shape your nails, and groom cuticles. Finish with a mini hand massage.
Basic Manicure - $25
Following a soothing hand bath, cuticles are groomed and nails are shaped. A light hand massage and a polish of your choice completes the
basic manicure.

Spa Manicure - $30
Enjoy all the benefits of a Basic Manicure, then sit back and relax while we hydrate your lower arms and hands with a lotion application followed by a massage. Finish your manicure with an Aroma paraffin waxing treatment and polish of your choice.
Pedicures
Man's Pedicure - $37.75
Relax in a private pedicure room while your feet get softened and rejuvenated. Enjoy as we smooth toe edges, groom cuticles, and remove and soften calluses with an exfoliating pomegranate scrub. Finish and enjoy the moisture lotion massage on lower leg and feet.
Mini Pedicure - $23.75
Relax in our massage chair while we remove polish, shape toenails and groom cuticles. Finish with a relaxing lotion application.
Basic Pedicure- $37.75
Enjoy all of the benefits of the Mini pedicure plus the added experience of our pomegranate exfoliation to soften your feet while we remove any calluses. Sit back and relax while receiving a lower leg and foot massage. Finish your pedicure with a polish of your choice.
Spa Pedicure - $42.75
This session begins with a relaxing foot bath, followed by exfoliation of dry skin, buffed calluses, treatment of cuticles and nails. Enjoy a soothing foot and leg massage followed by a paraffin treatment with vitamins and oils. Finish with a beautiful polish for the toes. This treatment will nourish and smooth feet leaving them soft and like new.
Nail Enhancements
Polish Change - $7
Choose from any polish color and we will remove your old polish and make your nails look beautiful again.
French Polish- Additional $5
Add French polish to any manicure or pedicure for an additional charge.
Nail Art - Additional $5
Choose from a variety of nail art to add to your manicure or pedicure for an additional charge.

Aroma Paraffin - $12
Need extra moisture for your hands or feet? This treatment will calm your dry hands and feet in a matter of a few moments.
Shellac Gel Service - $20
Featuring Shellac! Shellac is a gel that wont damage the nail, emits no harmful fumes or chemicals, and lasts up to two weeks without chipping! Shellac leaves you with beautifully natural, smooth, and shiny nails.
Shellac Manicure - $30
We will remove your shellac polish gently and easily by wrapping fingers with integrated cotton pad that limits fingers and skin exposure to acetone by pinpointing on just the nail.
Massage
Body massage is manipulating and kneading of the body's tissues, muscles and joints. It relieves stress and muscle tension and stiffness. Massage therapy improves circulation of the blood and the movement of the lymph fluids. It helps to release toxins while making the muscles and joints more flexible. Enjoy relaxation in a calm, soothing environment.
Thirty Minutes - $30
Forty-five Minutes - $45
1 Hour - $56
Seventy-five Minutes- $70
Ninety Minutes - $76
Heated Stone Therapy - $10
Release tension and relax muscles throughout the body with soothing heated stones.
Skin Care
Therapeutic Facials - $49
A luxurious, relaxing cleansing of facial tissue. Removes dead cells, make- up and debris, lubricates skin & relieves dryness leaving fresh new skin. Slows down the aging process and helps regenerate the collagen & elastin tissues. Warm moist towels, aromatherapy, exfoliating masks and facial massage combine to provide a deep total body relaxation experience.
With Paraffin Wax - $58
Deep Cleansing Facial - $55
In addition to a therapeutic facial, a high speed cleansing brush gives a deep exfoliation to the facial tissues. Next, clinical care products and steam are used to unclog pores and remove blackheads. A facial vacuum then assists in removing any residue from pores. Lastly, a high frequency probe is used to eliminate toxins and acne causing bacteria, shrink pores, and fade stubborn acne marks leaving your skin clean, fresh, and rejuvenated.

Back Facial - $60
Enjoy a scalp and arm massage while we use our clinical skin care products and masks to eliminate bacteria, exfoliate, and hydrate your dry, oily, or acne prone skin.
Extra Peels - $5

Clinical Care Peel - $35
Includes full cleansing of the skin, a facial toning treatment and intensive resurfacing peel.
Eight Peels (Includes six peels plus 2 maintenance peels) $175
Make-up
Make-up Application - $25
Treatments
Deep conditioner - $15
A deep repair of the hair cuticle leaving your hair feeling healthy
and strong.
Scalp treatment - $15
A facial for the scalp, with exfoliates and removes fatty acids, sebum and other skin cells.

Call or Just Walk In
Make your appointment today or just walk in. No appointments
are necessary!